Kid in a bubble
Comments

3
64pages on
this wiki
KIB is short for kid-in-a-bubble and is a favorite bubble activity for parties that is enjoyed by both kids and adults. While it is called kid-in-a-bubble, with the right rig, you can put a grown-up in a bubble, too.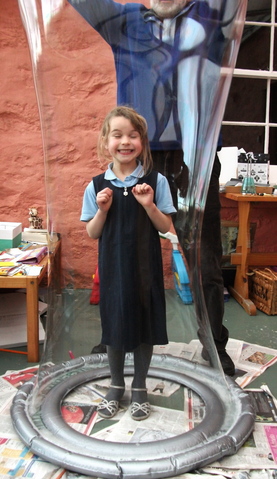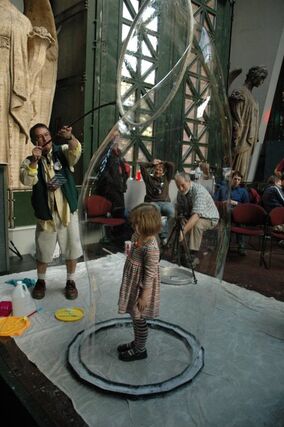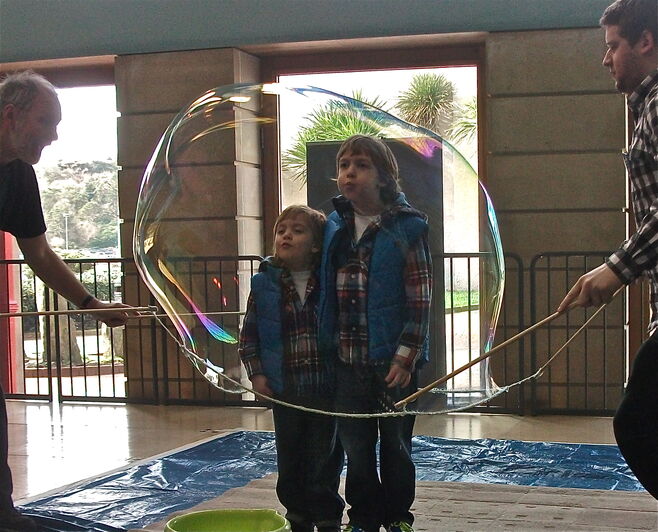 There are two main styles of kid-in-a-bubble, KIB for short: bottom-up and top-down.
Bottom-Up
Edit
"Twister" Moats
Edit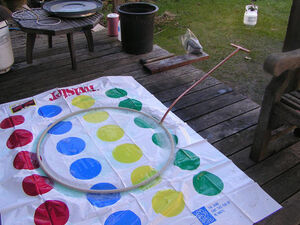 The "Twister" moat is another ingenious idea from Brian Lawrence.
Make a bubble hoop with a large enough diameter to encase a person of the desired size.
Make two concentric rings: one a bit larger than the hoop and the other a bit smaller. The space between the rings is the moat that you will fill with bubble juice. You can use coiled garden hoses for the rings. You can make a ring from pipe insulation and duct tape, too. There are many possibilities
Lay something thick flexible plastic sheet (such as the one that comes with the game Twister or a sturdy plastic painter's dropcloth)
Press the drop cloth down between the rings to form a moat. 
You fill the moat with bubble juice.
You may want to put a non-slip surface (such as a towel) in the area where the person will stand. 
Baby Pools
Edit
Other Moats
Edit
See this SBF post for another style moat.
Glowby's top-down rig tutorial
See the KIB category page