by Rick Findley
This is a simplification of Rick's DIY KIB Travel Moat. This moat is as simple as can be. You need one large diameter inflatable wading pool and a smaller diameter pool for the inner ring. It requires less than one gallon of bubble juice.
This design is super compact. Rolled up and ready to go!
See original article for detailed instructions on preparing the outer moat.
The outer diameters of the pools used are 45" for the larger pool an 33" in diameter for the smaller one. These pools are offered by INTEX as 3-ring children's wading pools.
PREPARATION:
Remove the upper two rings of both pools so that you are using each pool's bottom ring.
Cut a hole in the bottom of the larger pool.
It is suggested that you add non-slip bathtub stickers or a non-slip mat to the center.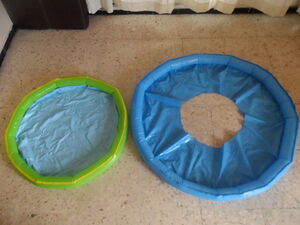 The 2 pools required that you need prepared for assembly as described above. The larger pool's outer diameter is 45" diameter and the inner pool's 33".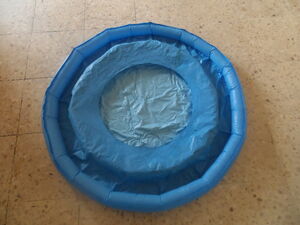 Slide the smaller inflated pool underneath and center it as desired. The smaller pool's floor catches spillage and splatter of bubble liquid. You should place these on a drop cloth of some sort as bubble juice will go flying.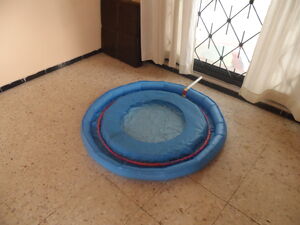 Smooth out the wrinkles and tuck in the small bit of excess to form the moat
Rolled up and ready to go (side view). Note the non-slip shelf-liner
Let's go!
Ad blocker interference detected!
Wikia is a free-to-use site that makes money from advertising. We have a modified experience for viewers using ad blockers

Wikia is not accessible if you've made further modifications. Remove the custom ad blocker rule(s) and the page will load as expected.