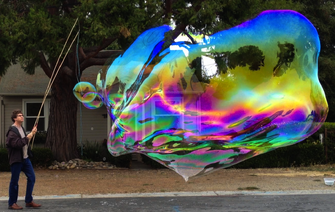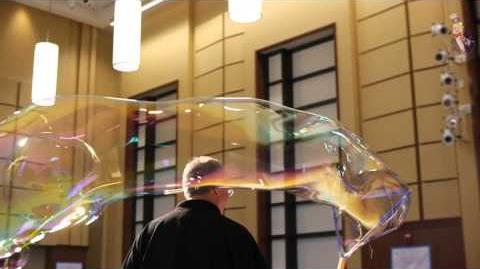 Uncle Bubble Ultra Concentrate is a commercial bubble mix (just add water) that seems to have come on the U.S. market in 2013. It has received glowing reviews on SBF, the Soap Bubble Fanciers Yahoo Group including this positive mention by Tom Noddy, one of the world's great bubble performers.
2016: Numerous performers now use UBC for their indoor bubble show solution -- sculpture work to KIB including Tom Noddy, Keith Johnson, Cirque du Soleil (LOVE show in Las Vegas), Su Chung Tai (seen in THIS VIDEO) and others who prefer to remain anonymous.
This product is a bubble concentrate to which you add water. The recommended concentrate is 9:1. So, one 8 oz. bottle of concentrate creates 81 fluid ounces of bubble juice.
The bubble juice has received excellent reviews on SBF by people using it for both small bubbles and giant bubbles. As of June 2013, it sells for about $9 per 8 oz. bottle.
Please note that this article does not constitute an endorsement as the wiki staff have not had an opportunity to use this product. However, it has received very positive reviews by quite a few people on SBF including some pretty critical bubblers that brew their own great mixes.
People report that the bubbles tend to last longer than bubbles made with other mixes (commercial or DIY).
As of June 2013, it seems to only be available in 8 oz. bottles and only in the USA.
4.21.2016 // UB Ultra Bubble Concentrate is available at a reduced price for performers HERE. IMPORTANT NOTE! Uncle Bubble Ultra Concentrate seems to be a different formulation from some of the other Uncle Bubble bubble juice that you might encounter (such as the juice that comes with some of their bubble makers).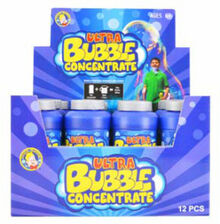 Standard Dilution
. 9 parts water per 1 part concentrate is recommended by the manufacturer. The resulting film has a film thickness (evidenced by its color profile) similar to what one gets with a pH-adjusted (range: 7.2-7.8) Dawn Pro solution somewhere in the range of 16:1 to 18:1. When diluted with tap water whose pH was 9.1, the resulting solution had a pH of 7.9/8.0.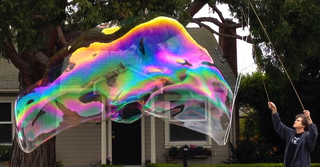 Extra-Dilute Solutions
(updated March 20, 2015). Uncle Bubble can be diluted with extra water to good effect. At 11:1, the solution is nearly as friendly as at 9:1 and the color profile is very close to 9:1. We have diluted at 14:1 and 16:1 to good effect (see photos) but feel that a little extra polymer (such as BLM) is beneficial as some friendliness is lost.
Dilution Exploration Notes: Based on the color profile of UB when diluted 9:1, I decided to try it diluted at 11:1. I was surprised to find that the film became only slightly thicker without losing much bubble friendliness. This made me realize that the dilution could be pushed quite a bit more. At 14-to-1 the film became noticeably thicker (somewhere along the lines of Dawn Pro at 20-to-1) but the solution became a bit less bubble friendly and some size potential was lost. The addition of a little additional PEO (via a little BLM) improved the friendliness quite a bit. It makes me think that further exploration would be in order. Let us know, if you try it out. This dilution should have improved longevity in dry conditions. A little pH-adjustment might be beneficial but hasn't been tested. See the Color Studies below.
Color Stability
Edit
Diluted at 9:1, the first to the last bubbles of a multi-bubble tri-string dip have some color. One does not see the nearly transparent bubbles at the end of a multi-bubble dip that some solutions show when the dilution is near the Critical Dilution
Uncle Bubble Ultra Concentrate creates bubbles with ghostless pops very similar to those created by Charmy Dish Detergent (Japanese dishwashing liquid)
Color Studies
Edit
Below are some color studies that examine the film thickness of bubbles created with Uncle Bubble. See: Color Profile. Also see: Color and Film Thickness.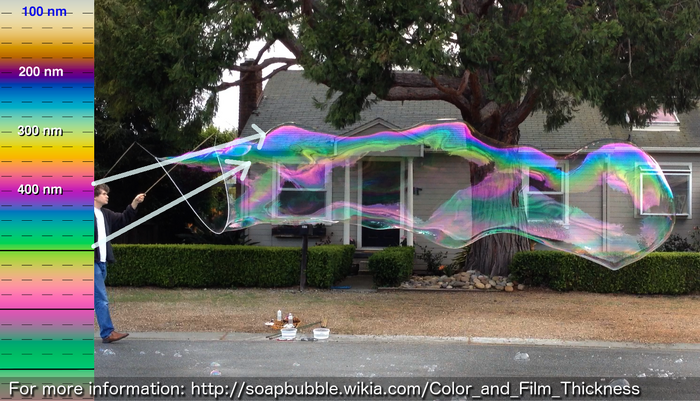 See Also
Edit
Click here to see all articles, photos and blog entries related to Uncle Bubble products.