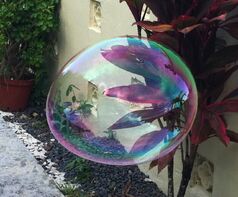 Following the precious advice of Edward I'll try to transcribe my adventure with the adaptation of EGOO in a tropical climate.
Products:
fairy expert
water
peo (j lube)
ac/bs
if you want more ,you can see Egoo by Edward on this blog.
First test in July 2012
the base is an egoo with 16/1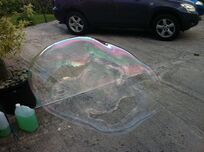 ac: 1.6 g
bs: 3.2 g
fairy: 150 ml
peo: 2.2g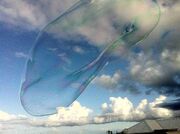 bubbles kinds has 30 degree Celcius, humidity 80 percent but have a very short lifespan. beautiful transparent color the change in temperature of the liquid has a small influence on the output of the bubble.
the pH of the water(no tape water) is 6.2
the pH of the mixture is 7.1
In this test the mixture does not support the wind, he disappears into tiny bubbles.
second test 10/07/12 :
egoo always the same, but this time the water is half water and half tap water distilled

distilled water: pH 5.8

Tap water: pH 7.7

mixture: pH 7.1

test at night the temperature was 27 degrees celcius is, the bubbles are larger 3 cubic meter (can be a temperature effect?) the air quality is good = 40 pm10
bubbles do not like the wind but shows a slight resistance, as the first test she can not resist a heat of late after noon (30 degree) the bubble explodes very quickly has a size of half a m3, it takes very long with short stature.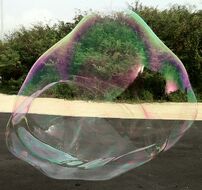 third test (15/7/12)
for this test while the second identical except for the peo passing a 2.6 g
there is no big difference between the bubbles, there is a slight longevity of the mix with more peo. of beautiful color.

I took the opportunity today to test this egoo the cons of a jumbo juice dustin the result is: a longer tube with jumbo ( 10m) but bubbles that resists least a morning heat (28 ° C)

a shorter tube with egoo (7m) but small bubbles

for the ph egoo: 7,7
&nbsp ph for the jumbo:8,2

average air quality pm10: 49

color bubbles of jumbo has strongly reflects blue (blue is the mix for jumbo green for egoo)
test de differenciation DE PEOelement: un egoo1 a 18/1 eau moitie eau du robinet moitie eau distilée , le peo jl est a 4,4g un egoo2 a 25/1 eau moitie eau du robinet moitie eau distilée , sans peo egoo1 est a 7,6 de ph , egoo2 est a 7,7 de ph
la temperature est a 28°c humidité 75% , air moyen pm10: 36
1er bulle avec egoo1: liquide gluant , des bulles mais tube difficile a faire. 2emme bulle avec egoo1 ('600ml) et 10% egoo2 : idem 1 er bulle 3emme bulle avec eggo 1et (10+10) 20% egoo2 : idem 1 er bulle 4emme bulle avec egoo1 et 30% egoo2 : liquide moins visqueux de belle bulle avec des couleurs vive 5emme bulle avec egoo1 (toujours 600ml) et 40% egoo 2: belle bulle , belle couleur ,tube 8m 6emme bulle avec egoo1et 50% egoo2: idem 5emme bulle 7emme bulle avec egoo1 et 60% egoo2: belle bulle 8emme bulle avec egoo1 et 70% egoo2 : belle bulle mais des couleurs plus blanche 9emme bulle avec egoo1 et 80% egoo2: idem 8emme bulle
la temperature est a 28°c humidité 75% , air moyen pm10: 36
une remarque : sur tous les tests la durée des bulles est faible et constante

TEST OF PEO DIFFERENTIATING
element: egoo1 has a 18/1 half water half tap water Distilled water, the peo jl is a 4.4 g egoo2 has a 25/1 half water half tap water Distilled water without peo egoo1 is has pH of 7.6, egoo2 has ph:7.7
temperature is 28 ° c humidity was 75%, average air pm10: 36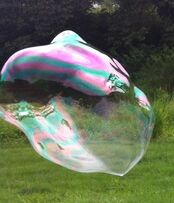 First bubble with egoo1: sticky liquid, bubble tube but difficult to do.

2 bubble with egoo1 ('600ml) and 10% egoo2: ditto 1 bubble

3 bubble with eggo 1 and (10 10) 20% egoo2: ditto 1 bubble

4 bubble with egoo1 and 30% egoo2: less viscous liquid of fine bubbles with vivid colors

5 bubble with egoo1 (always 600ml) and 40% egoo 2: nice bubble, nice color, tube 8m

6 bubble with 50% egoo1et egoo2: same 5 bubble
7 bubble with egoo1 and 60% egoo2: beautiful bubble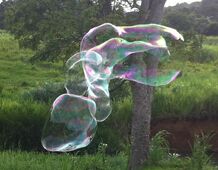 8 bubble with egoo1 and 70% egoo2: nice bubble but whiter color

9 bubble with egoo1 and 80% egoo2: same 8emme bubble
a note: in all tests the length of the bubbles is small and constant