Comments

5
2012 03 Dilute Solution Explorations
(Currently, this is a placeholder and this article needs to be fleshed out.)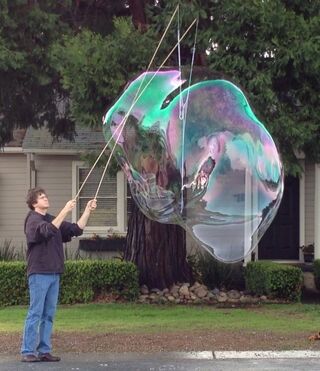 In March, several of us began a discussion of water:detergent dilution on the wiki's
facebook page
. I have, from the beginning of my interest in soap bubbles a few years ago, been curious about the huge range of dilutions in the recipes that one finds. I settled on about 12.5:1 which seems to be in the range most frequently documented by SBF members.
Over the last few years, I have asked on SBF many times about how people arrived at their preferred dilution and what differences they observed at greater and lesser dilution, but I never got any replies. On the FB page, a couple of people noted that they preferred dilutions over 20:1 because they found the colors to be better.
In the conversation, one person mentioned that for a while they were using 40:1 but had since switched to somewhere in the 20's because it was more friendly. This got us to wondering -- how dilute we could get and still have a viable solution.
What we found was that with Dawn Pro and the European Fairies that 40:1 and 50:1 could be quite friendly (i.e. bubbles were easy to close and bubble-in-bubble was not hard) as long as you added enough PEO. (We were only exploring PEO-based mixes). At those dilutions, you need a lot more PEO than with less-dilute solutions. And yet, the mixes are not gooey/stringy the way that less-dilute mixes are with even half as much PEO. (Perhaps, there are interactions with the detergent polymers in less-dilute mixes that are not significant at higher dilution).
In any case, dilute mixes (40:1 to 50:1 with Dawn Pro and Fairy) have distinct color profiles. These mixes won't create tubes as long as one can create with less-dilute mixes, but you get these gorgeous pink/green dominated bubbles that are quite beautiful. I recommend that anyone serious about bubbles explore this area.
We have yet to explore HEC or guar-based mixes at this dilution.
Visit the wiki's facebook page photo albums for examples of these bubbles.
I'll get some videos up one of these days. Leave a comment if you are curious about the videos.